This page may contain affiliate links, meaning that I receive a small percentage of the sale at no extra cost to you. Thank you for supporting Along for Adventure!
Austin, Texas is the USA's newest "it town". Filled with unique Keep Austin Weird culture, hipster cafes, and delicious Tex-Mex food, Austin has so much to offer tourists and locals alike! Just passing through? Here's my local's guide to spending one day in Austin.
ONE DAY IN AUSTIN: BRUNCH
To start your day, head to brunch at Hillside Farmacy, located just east of I-35 and downtown, to try their can't-miss biscuits and gravy. It's topped with green onion and the optional fried egg and there shouldn't be too much of a wait. Once you've had your fill of southern comfort food, head to the well-known South Congress district for some shopping and sight-seeing.
ONE DAY IN AUSTIN: SHOPPING ON SOUTH CONGRESS AVENUE
South Congress Avenue runs north-to-south from south Austin directly to the Capitol Building. Aim to start somewhere between W Mary Street and W James Street. Anywhere between there will be filled with eclectic shops, bars, and restaurants. Stroll up and down the street stopping in iconic places such as Allen's Boots to try on a pair of authentic cowboy boots.
You'll find national brands such as Kendra Scott, TOMS, and Warby Parker along South Congress Avenue as well, and each is worth checking out.
ONE DAY IN AUSTIN: DINING ON SOUTH CONGRESS AVENUE
Hungry yet? You will be when you smell the wonderful aromas wafting out of the many restaurants and cafes that dot the avenue. Torchy's is the best place for Austin tacos. Their slogan is "Damn Good Tacos" and they sure aren't lying! Torchy's is doing so well that they have expanded to multiple locations around Austin and are even venturing out to other cities and states now.
You HAVE to order the chips and queso for the table. It's just the best. Warning: if you can't handle spicy food, make sure to ask for "no diablo". You can thank me later! My favorite taco is the Baja Shrimp, but the Trailer Park is their most popular.
Not in a taco mood? Try Hopdoddy, known for their all-natural burgers and shakes, or Home Slice Pizza for a quick bite. Perla's is a good choice if you're looking for something a little classier, featuring a cute patio area and fresh seafood selections. The Lucky Robot offers modern sushi creations and yummy rice bowls.
Grab dessert at Amy's Ice Cream, an Austin original and a must-have on a warm Texas day.
(source)
ONE DAY IN AUSTIN: SIGHT-SEEING
At the corner of South Congress and W James is Jo's Coffee, made famous by the iconic mural on the side of their building. You can't really say you've been to Austin without taking a picture in front of the famous "I Love You So Much" mural, so make sure to swing by.
(source)
As evening draws near, head to the South Congress bridge (walk north and it's just before you hit downtown) to grab your spot along the sidewalk. Just before sunset, the world's largest urban bat colony will emerge from beneath the bridge. It sounds spooky but it's really cool to watch! 1.5 million bats will fly out to begin their nightly search of food, and it's an amazing sight. Don't pass this one up!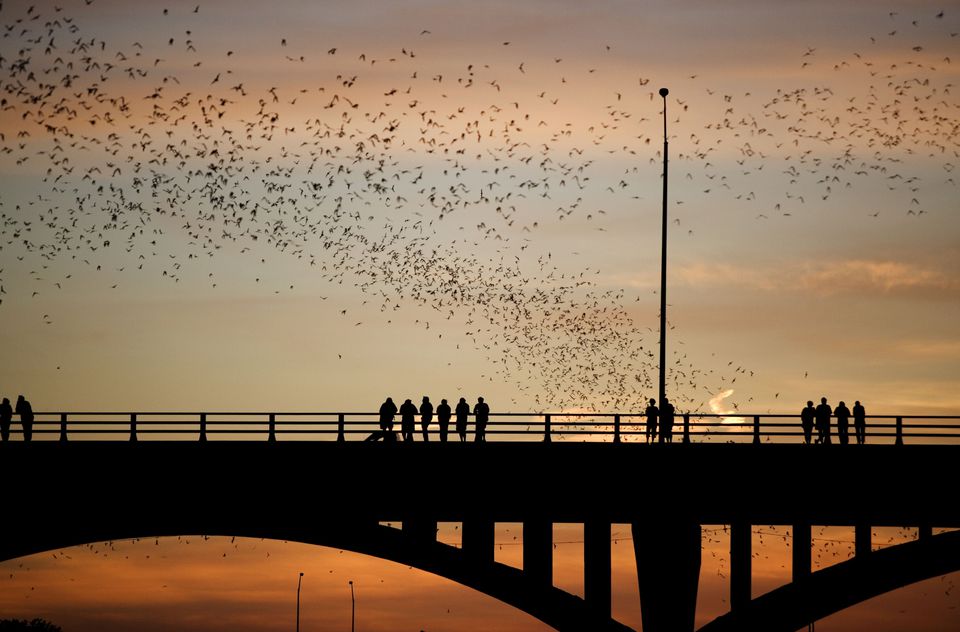 (source)
ONE DAY IN AUSTIN: NIGHTLIFE
As night falls, there's only one place to be in downtown Austin: Sixth Street! Comparable to Bourbon Street in New Orleans, Dirty Sixth (as it is oh-so affectionately known) is blocked off to vehicles at night and pedestrians fill the streets, moving along from bar to bar. The street is lined on both sides with bars ranging from tiny dives to rooftop dance parties.
(source)
College students abound, but Sixth is absolutely for everybody who wants to have a good time. There's something for everyone here! Maggie Mae's features live music seven days a week and has an awesome rooftop patio.
Want to do something more than just drink? Buffalo Billiards features darts, pool, shuffleboard, and several arcade games. It's easy to lose track of time in here!
(source)
The Dizzy Rooster and Library bar are good dives and an easy place to hang out, but they are on the smaller side so it can get crowded. The Dizzy Rooster has live music which has always been good when I've been. Midnight Cowboy is a speakeasy made for enjoying craft cocktails. They don't allow groups bigger than 8 and ask that all phone calls be taken outside. Rowdy, it is not. But that's a good thing. To get in, ring the buzzer marked "Harry Craddock".
(source)
As you can see, Austin is a lively city filled with so much to do that you couldn't possibly take it in in just one day. It feels like everyone is talking about moving here or at least visiting, so now's the time to come see for yourself what makes Austin such a compelling city. Everyone needs to spend at least one day in Austin to check out a bit of what this trendy, vibrant city has to offer.
Disclaimer: This post may contain affiliate links, meaning that I earn a small commission (at no extra cost to you!) if you decided to purchase something. Everything I link is a product I personally use and 100% believe in, I promise!

Start Planning Your Trip

Book Your Flight:

I use

Skyscanner

to find the lowest flight prices. They search airlines around the world to find you the absolute best deal.

Find Accommodations: Use Booking.com as they consistently offer the lowest prices. Many of their listings also allow you to book now and pay when you stay, making it easy to plan ahead for travel.

Don't Forget Travel Insurance:Travel insurance will protect you in case of injury, illness, theft, missed flights, and more. I have been using World Nomads for years and have had nothing but great experiences.

Get the Guide Book: I read the Lonely Planet guide book for my destination before every trip! Their guide books are full of great information.

Check out my Resource Page for the travel gear I use and recommend. I think you'll love these things too!

Follow my adventures: Instagram | Twitter | Pinterest | Facebook